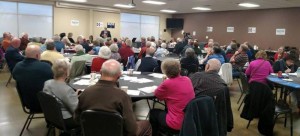 For this year's Annual Spaghetti Dinner we sold over 100 tickets, raised over $1,00 for our organization and packed the room with like-minded friends and family.
Our speaker, Congressman Mark Pocan, gave an engaging speech and great conversation filled the room.
Thank you to everyone who cooked, baked, donated or otherwise contributed to the success of our event.
A special thank you to Anne Molineu who chaired this year's dinner!
And thank you to all those who attended and supported this annual fundraising and social event.