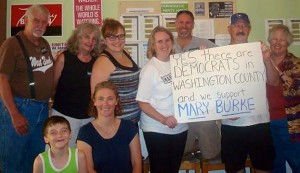 The Monthly Meeting of the Democratic Party of Washington County is coming up this Wednesday, September 17th, 7:00 – 8:30 PM.
Bring a "new" friend who hasn't attended a meeting before and you receive a free "Mary Burke" button!
Join us at the Dem Party Office at 132 North Main Street in West Bend—just a block south of Old Settler's Park.
Come hear about upcoming activities—contribute your ideas and suggestions—get energized with fellow Democrats and friends.
Contact Tanya Lohr at telohr@charter.net with questions and to suggest items for the agenda.