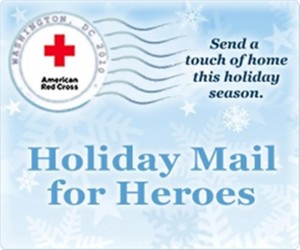 Join us this Friday for a "Party with a Purpose"! We will be writing holiday cards to service members and veterans who will be separated from their families over the holidays. Our event is part of the Holiday for Heroes Program through the American Red Cross.
We'll have holiday treats and music to set the mood. Stop in for 30 minutes, an hour, or whatever time you have to help lift the spirits of those serving overseas.
We need volunteers to help provide these holiday snacks. If you are willing to donate a treat, please drop one off at the office before the event or bring it to the event itself on Friday, November 15th. The office is open Tuesday – Thursday, 11 AM – 5 PM and Friday 11 AM – 3 PM. We will provide drinks and the Red Cross will supply the holiday cards.
This event is open to the public. Please invite your friends, family members, co-workers, and neighbors to help with this important project. The event is a family event so please feel free to bring kids.
Please join us on Friday with this important event!
You can contact Tanya Lohr at telohr@charter.net for more information.