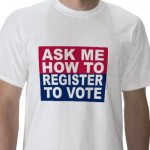 The West Bend City Clerk is offering training and certification of Special Registration Deputies (SRDs) for the City of West Bend on Friday, February 24th from 1 – 2:30 p.m. at West Bend City Hall, Council Chambers. City Hall is located at
1115 S. Main St
. 
This will be the only training offered in West Bend before the April election. There may be additional sessions after the April election. 
I have made inquiry of all of the other municipal clerks in the County to see if they will accept Amy's training and certify those who complete it as SRDs for their municipalities. Under the new rules each municipality must certify those who register voters who live in that municipality. You do not have to live in a municipality in order to register new voters there, you just have to be approved as a SRD for that municipality. 
If you plan to help out with voter registration activities in the new office, especially during the Farmers Market this summer, you will need to become certified as an SRD. People from all over Washington County come to the Market. We will be having voter registration drives in other areas as well.
Please let me know if you plan to attend this training.
Waring